The farm : a novel by Joanne Ramos
"Nestled in New York's Hudson Valley is a luxury retreat boasting every amenity: organic meals, private fitness trainers, daily massages—and all of it for free. In fact, you're paid big money to stay here—more than you've ever dreamed of. The catch? For nine months, you cannot leave the grounds; your movements are monitored, and you are cut off from your former life while you dedicate yourself to the task of producing the perfect baby. Jane, an immigrant from the Philippines, is in desperate search of a better future when she commits to being a Host at Golden Oaks, or the Farm as residents call it. But now pregnant, fragile, consumed with worry for her own family, Jane is determined to reconnect with her life outside. Yet she cannot leave the Farm or she will lose the life-changing fee she'll receive on delivery. Heartbreaking, gripping, provocative, The Farm pushes our thinking on motherhood, money, and merit to the extremes, and raises crucial questions about the trade-offs women will make to fortify their futures and the futures of those they love." (Provided by publisher.)
The Joy Luck Club by Amy Tan
"In 1949, four Chinese women—drawn together by the shadow of their past—begin meeting in San Francisco to play mah jong, invest in stocks and 'say' stories. They call their gathering the Joy Luck Club—and forge a relationship that binds them for more than three decades." (Provided by publisher.)
Interior Chinatown by Charles Yu
"Every day Willis Wu leaves his tiny room in a Chinatown SRO and enters the Golden Palace restaurant, where Black and White, a procedural cop show, is in perpetual production. He's a bit player here too, but he dreams of being Kung Fu Guy—and he sees his life as a script. After stumbling into the spotlight, Willis finds himself launched into a wider world than he has ever known, discovering not only the secret history of Chinatown, but the buried legacy of his own family, and what that means for him in today's America." (Adapted from jacket.)
Winner of the National Book Award for Fiction.
Everything I never told you by Celeste Ng
"Lydia is dead. But they don't know this yet. So begins the story of this exquisite debut novel, about a Chinese American family living in 1970s small-town Ohio. Lydia is the favorite child of Marilyn and James Lee; their middle daughter, a girl who inherited her mother's bright blue eyes and her father's jet-black hair. Her parents are determined that Lydia will fulfill the dreams they were unable to pursue—in Marilyn's case that her daughter become a doctor rather than a homemaker, in James's case that Lydia be popular at school, a girl with a busy social life and the center of every party. When Lydia's body is found in the local lake, the delicate balancing act that has been keeping the Lee family together tumbles into chaos, forcing them to confront the long-kept secrets that have been slowly pulling them apart. James, consumed by guilt, sets out on a reckless path that may destroy his marriage. Marilyn, devastated and vengeful, is determined to find a responsible party, no matter what the cost. Lydia's older brother, Nathan, is certain that the neighborhood bad boy Jack is somehow involved. But it's the youngest of the family—Hannah—who observes far more than anyone realizes and who may be the only one who knows the truth about what happened. A profoundly moving story of family, history, and the meaning of home, Everything I Never Told You is both a gripping page-turner and a sensitive family portrait, exploring the divisions between cultures and the rifts within a family, and uncovering the ways in which mothers and daughters, fathers and sons, and husbands and wives struggle, all their lives, to understand one another" (Provided by publisher.)
Trick mirror: reflections of self-delusion by Jia Tolentino
"Trick Mirror is an enlightening, unforgettable trip through the river of self-delusion that surges just beneath the surface of our lives. This is a book about the incentives that shape us, and about how hard it is to see ourselves clearly through a culture that revolves around the self. In each essay, Tolentino writes about a cultural prism: the rise of the nightmare social internet; the advent of scamming as the definitive millennial ethos; the literary heroine's journey from brave to blank to bitter; the punitive dream of optimization, which insists that everything, including our bodies, should become more efficient and beautiful until we die. Gleaming with Tolentino's sense of humor and capacity to elucidate the impossibly complex in an instant, and marked by her desire to treat the reader with profound honesty, Trick Mirror is an instant classic of the worst decade yet." (Provided by publisher.)
Crazy Rich Asians by Kevin Kwan
"Crazy Rich Asians is the outrageously funny debut novel about three super-rich, pedigreed Chinese families and the gossip, backbiting, and scheming that occurs when the heir to one of the most massive fortunes in Asia brings home his ABC (American-born Chinese) girlfriend to the wedding of the season. When Rachel Chu agrees to spend the summer in Singapore with her boyfriend, Nicholas Young, she envisions a humble family home, long drives to explore the island, and quality time with the man she might one day marry. What she doesn't know is that Nick's family home happens to look like a palace, that she'll ride in more private planes than cars, and that with one of Asia's most eligible bachelors on her arm, Rachel might as well have a target on her back. Initiated into a world of dynastic splendor beyond imagination, Rachel meets Astrid, the It Girl of Singapore society; Eddie, whose family practically lives in the pages of the Hong Kong socialite magazines; and Eleanor, Nick's formidable mother, a woman who has very strong feelings about who her son should-and should not-marry. Uproarious, addictive, and filled with jaw-dropping opulence, Crazy Rich Asians is an insider's look at the Asian JetSet; a perfect depiction of the clash between old money and new money; between Overseas Chinese and Mainland Chinese; and a fabulous novel about what it means to be young, in love, and gloriously, crazily rich." (Provided by publisher.)
Little fires everywhere by Celeste Ng
"In Shaker Heights, a placid, progressive suburb of Cleveland, everything is planned - from the layout of the winding roads, to the colors of the houses, to the successful lives its residents will go on to lead. And no one embodies this spirit more than Elena Richardson, whose guiding principle is playing by the rules. Enter Mia Warren—an enigmatic artist and single mother—who arrives in this idyllic bubble with her teenaged daughter Pearl, and rents a house from the Richardsons. Soon Mia and Pearl become more than tenants: all four Richardson children are drawn to the mother-daughter pair. But Mia carries with her a mysterious past and a disregard for the status quo that threatens to upend this carefully ordered community. When old family friends of the Richardsons attempt to adopt a Chinese-American baby, a custody battle erupts that dramatically divides the town—and puts Mia and Elena on opposing sides." (Provided by publisher.)
The lowland : a novel by Jhumpa Lahiri
"Brothers Subhash and Udayan Mitra pursue vastly different lives—Udayan in rebellion-torn Calcutta, Subhash in a quiet corner of America—until a shattering tragedy compels Subhash to return to India, where he endeavors to heal family wounds." (Provided by publisher.)
When heaven and earth changed places : a Vietnamese woman's journey from war to peace by Le Ly Hayslip with Jay Wurts
"It is said that in war heaven and earth change places not once, but many times. When Heaven and Earth Changed Places is the haunting memoir of a girl on the verge of womanhood in a world turned upside down. The youngest of six children in a close-knit Buddhist family, Le Ly Hayslip was twelve years old when U.S. helicopters landed in Ky La, her tiny village in central Vietnam. As the government and Viet Cong troops fought in and around Ky La, both sides recruited children as spies and saboteurs. Le Ly was one of those children. Before the age of sixteen, Le Ly had suffered near-starvation, imprisonment, torture, rape, and the deaths of beloved family members-but miraculously held fast to her faith in humanity. And almost twenty years after her escape to America, she was drawn inexorably back to the devastated country and family she left behind. Scenes of this joyous reunion are interwoven with the brutal war years, offering a poignant picture of Vietnam, then and now, and of a courageous woman who experienced the true horror of the Vietnam War--and survived to tell her unforgettable story.." (Provided by publisher.)
Minor feelings : an Asian American reckoning by Cathy Park Hong
"Asian Americans inhabit a purgatorial status: neither white enough nor black enough, unmentioned in most conversations about racial identity. In the popular imagination, Asian Americans are all high-achieving professionals. But in reality, this is the most economically divided group in the country, a tenuous alliance of people with roots from South Asia to East Asia to the Pacific Islands, from tech millionaires to service industry laborers. How do we speak honestly about the Asian American condition--if such a thing exists? Poet and essayist Cathy Park Hong fearlessly and provocatively confronts this thorny subject, blending memoir, cultural criticism, and history to expose the truth of racialized consciousness in America. Binding these essays together is Hong's theory of 'minor feelings.' As the daughter of Korean immigrants, Cathy Park Hong grew up steeped in shame, suspicion, and melancholy. She would later understand that these 'minor feelings' occur when American optimism contradicts your own reality—when you believe the lies you're told about your own racial identity. With sly humor and a poet's searching mind, Hong uses her own story as a portal into a deeper examination of racial consciousness in America today. This intimate and devastating book traces her relationship to the English language, to shame and depression, to poetry and artmaking, and to family and female friendship. A radically honest work of art, Minor Feelings forms a portrait of one Asian American psyche—and of a writer's search to both uncover and speak the truth." (Provided by publisher.)
All you can ever know : a memoir by Nicole Chung
"What does it mean to lose your roots—within your culture, within your family—and what happens when you find them? Nicole Chung was born severely premature, placed for adoption by her Korean parents, and raised by a white family in a sheltered Oregon town. From childhood, she heard the story of her adoption as a comforting, prepackaged myth. She believed that her biological parents had made the ultimate sacrifice in the hope of giving her a better life, that forever feeling slightly out of place was her fate as a transracial adoptee. But as Nicole grew up—facing prejudice her adoptive family couldn't see, finding her identity as an Asian American and as a writer, becoming ever more curious about where she came from—she wondered if the story she'd been told was the whole truth. With warmth, candor, and startling insight, Nicole Chung tells of her search for the people who gave her up, which coincided with the birth of her own child. [This book] is a profound, moving chronicle of surprising connections and the repercussions of unearthing painful family secrets—vital reading for anyone who has ever struggled to figure out where they belong." (From dust jacket.)
Pachinko by Min Jin Lee
"Pachinko follows one Korean family through the generations, beginning in early 1900s Korea with Sunja, the prized daughter of a poor yet proud family, whose unplanned pregnancy threatens to shame them all. Deserted by her lover, Sunja is saved when a young tubercular minister offers to marry and bring her to Japan. So begins a sweeping saga of an exceptional family in exile from its homeland and caught in the indifferent arc of history. Through desperate struggles and hard-won triumphs, its members are bound together by deep roots as they face enduring questions of faith, family, and identity." (Provided by publisher.)
National Book Award finalist.
Yes Yoko Ono by Alexandra Munroe with Jon Hendricks ; with essays by David A. Ross, Murray Sayle, Jann S. Wenner ; contributions by Bruce Altshulers
"This illustrated book is the first full survey of the artist's career to include work in all media, including film and music. An introductory essay by Alexandra Munroe explores Ono's life, her relationship to international avant-garde movements in America and Japan, and the aspects of her art and thought that have guided her prolific production over four decades. Jon Hendrick's study of Ono and Fluxus offers new insights into her contributions to one of the most radical collectives in the history of modern art. Essays by Murray Sayle, David Ross, and Jann S. Wenner enrich our understanding of Ono's complex role as one of the most public icons of the late twentieth century." (Dust jacket.)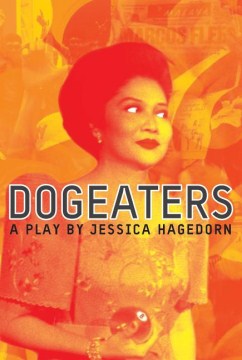 Dogeaters : a play about the Philippines by Jessica Hagedorn ; based on her novel
"Welcome to Manila in the turbulent period of the Philippines' late dictator. It is a world in which American pop culture and local Filipino tradition mix flamboyantly, and gossip, storytelling, and extravagant behavior thrive.
A wildly disparate group of characters—from movie stars to waiters, from a young junkie to the richest man in the Philippines—becomes caught up in a spiral of events culminating in a beauty pageant, a film festival, and an assassination. In the center of this maelstrom is Rio, a feisty schoolgirl who will grow up to live in America and look back with longing on the land of her youth." (Provided by publisher.)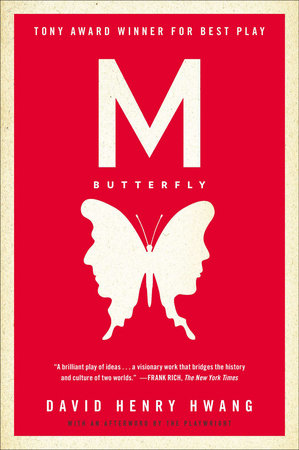 M. Butterfly by David Henry Hwang
"Based on a true story that stunned the world, and inspired by Giacomo Puccini's opera Madama Butterfly, M. Butterfly was an immediate sensation when it premiered in 1988. It opens in the cramped prison cell where diplomat Rene Gallimard is being held captive by the French government—and by his own illusions. He recalls a time when Song Liling, the beautiful Chinese diva, touched him with a love as vivid, as seductive—and as elusive—as a butterfly.
How could he have known that his true love was, in fact, a spy for the Chinese government—and a man disguised as a woman? The diplomat relives the twenty-year affair from the temptation to the seduction, from its consummation to the scandal that ultimately consumed them both.
M. Butterfly is one of the most compelling, explosive, and slyly humorous dramas ever to light the Broadway stage, a work of unrivaled brilliance, illuminating the conflict between men and women, the differences between East and West, racial stereotypes—and the shadows we cast around our most cherished illusions." (Provided by publisher.)
American born Chinese by Gene Luen Yang ; color by Lark Pien
Alternates three interrelated stories about the problems of young Chinese Americans trying to participate in the popular culture. Presented in comic book format.

Story 1: "All Jin Wing wants is to fit in. When his family moves to a new neighborhood, he suddenly finds that he's the only Chinese American student at the school. Jocki and his bullies constantly pick on him constantly, and he has hardly any friends. Then, to make matters worse, he falls in love with an all-American girl."
Story 2: "Born to rule over all the monkeys in the world, the story of the Monkey King is one of the oldest and greatest Chinese fables. Adored by his subjects, master of the arts of kung-fu, he is the most powerful monkey on Earth. But the Monkey King doesn't want to be a monkey. He wants to be hailed as a god ... "
Story 3: "Chin-Kee is the ultimate negative Chinese stereotype, and he's ruining his cousin Danny's life. Danny's a basketball player, a popular kid at school, but every year Chin-Kee comes to visit, and every year Danny has to transfer to a new school to escape the shame. This year, though, things quickly go from bad to worse" (Provided by publisher.)
Winner of the Printz Award.

Accomplice to memory by Q. M. Zhang
"In An Accomplice to Memory, Q. M. Zhang tries to piece together the fractured mystery of her father's exodus from China to the U. S. during the two decades of civil and world war leading up to the 1949 revolution. Part memoir, part novel, and part historical documentary, this hybrid text explores the silences and subterfuge of an immigrant parent, and the struggles of the second generation to understand the first. Zhang blurs the boundary between fiction and nonfiction, memory and imagination to tell the story of one woman working to understand and reimagine her family and her father." (From back cover.)
Kimberly Chang, who publishes under the name Q. M. Zhang, is an Associate Professor Emerita of Cultural Psychology and Creative Nonfiction.
The story of noble rot by Uzma Aslam Khan
"It is the careless abandon of a wine-satiated afternoon that first brings together the imperious Mrs. Masood and the humble carpenter's wife, Malika. As she observes the wealthy woman whose family is responsible for all her troubles, a plan takes shape in Malika's mind to recover the money Mrs. Masood owes her husband, and rescue her son from slow death in Mr. Masood's carpet factory. Unknown to both women, the moment marks the beginning of relationship that is to change their lives forever. Vividly narrated and full of funny yet complex dilemmas, this is a novel about the sweetness of life and about how we inexorably drive ourselves to our own doom. It marks the debut of a gifted storyteller from Pakistan." (From publisher.)
Uzma Aslam Khan is an Associate Professor of Fiction Writing at Hampshire College.
America is in the heart : a personal history by Carlos Bulosan
"First published in 1946, this autobiography of the well-known Filipino poet describes his boyhood in the Philippines, his voyage to America, and his years of hardship and despair as an itinerant laborer following the harvest trail in the rural West. Bulosan does not spare the reader any of the horrors that accompanied the migrant's life, but his quiet, stoic voice is the most convincing witness to the terrible events he witnessed." (Provided by publisher.)
The sympathizer by Viet Thanh Nguyen
"Follows a Viet Cong agent as he spies on a South Vietnamese army general and his compatriots as they start a new life in 1975 Los Angeles." (Provided by publisher.)
Winner of the Pulitzer Prize for Fiction, and the Edgar Award for Best First Novel by an American Author.
The woman warrior : memoirs of a girlhood among ghosts by Maxine Hong Kingston
"A memoir of the American-born daughter of Chinese immigrants who lived within the traditions and fears of the Chinese past as well as the realities of the alien modern American culture." (Provided by publisher.)
Kinder than solitude : a novel by Yiyun Li
"A tale set in America and China follows the experiences of three people who in their youths were involved in a mysterious accident that resulted in a friend's fatal poisoning and years later are haunted by the possibility that one of them actually committed a murder." (Provided by publisher.)
The namesake by Jhumpa Lahiri
"Meet the Ganguli family, new arrivals from Calcutta, trying their best to become Americans even as they pine for home. The name they bestow on their firstborn, Gogol, betrays all the conflicts of honoring tradition in a new world—conflicts that will haunt Gogol on his own winding path through divided loyalties, comic detours, and wrenching love affairs.
In The Namesake, the Pulitzer Prize winner Jhumpa Lahiri brilliantly illuminates the immigrant experience and the tangled ties between generations." (Provided by publisher.)
Disappear doppelgänger disappear : a novel by Matthew Salessesi
"A Korean American man's strange and ordinary attempts to exist. Matt Kim is always tired. He keeps passing out. His cat is dead. His wife and daughter have left him. He's estranged from his adoptive family. People bump into him on the street as if he isn't there. He is pretty sure he's disappearing. His girlfriend, Yumi, is less convinced. But then she runs into someone who looks exactly like her, and her doppelgänger turns out to have dated someone who looks exactly like Matt. Except the other Matt was superior in every way. He was clever, successful, generous, and beloved--until one day he suddenly and completely vanished without warning. How can Matt Kim protect his existence when a better version of him wasn't able to? Or is his worse life a reason for his survival? Set in a troubling time in which a presidential candidate is endorsed by the KKK and white men in red hats stalk Harvard Square, Disappear Doppelgänger Disappear is a haunting and frighteningly funny novel about Asian American stereotypes, the desires that make us human, puns, and what happens to the self when you have to become someone else to be seen." (Provided by publisher.)
Bestiary : a novel by K-Ming Chang
"One evening, Ma tells Daughter a story about a tiger spirit who lived in a woman's body, named Hu Gu Po. She hungered to eat children, especially their toes. Soon afterwards, Daughter awakes with a tiger tail. And more mysterious events follow: Holes in the backyard spit up letters penned by her grandmother; a visiting aunt leaves red on everything she touches; another aunt arrives with eels in her belly. All the while, Daughter is falling for her neighbor, a girl named Ben with mysterious powers of her own. As the two young lovers translate the grandmother's letters, Daughter begins to understand that each woman in her family embodies an old Taiwanese myth--and that she will have to bring her family's secrets to light in order to change their destiny. With a poetic voice of crackling electricity, K-Ming Chang is an explosive young writer who combines the wit and fabulism of Helen Oyeyemi with the magical realist aesthetic of Maxine Hong Kingston. Tracing one family's history from Mainland China to Taiwan, from Arkansas to California, Bestiary is a novel of migration, queer lineages, and womanhood." (Provided by publisher.)