Everything I never told you by Celeste Ng
"Lydia is dead. But they don't know this yet. So begins the story of this exquisite debut novel, about a Chinese American family living in 1970s small-town Ohio. Lydia is the favorite child of Marilyn and James Lee; their middle daughter, a girl who inherited her mother's bright blue eyes and her father's jet-black hair. Her parents are determined that Lydia will fulfill the dreams they were unable to pursue-in Marilyn's case that her daughter become a doctor rather than a homemaker, in James's case that Lydia be popular at school, a girl with a busy social life and the center of every party. When Lydia's body is found in the local lake, the delicate balancing act that has been keeping the Lee family together tumbles into chaos, forcing them to confront the long-kept secrets that have been slowly pulling them apart. James, consumed by guilt, sets out on a reckless path that may destroy his marriage. Marilyn, devastated and vengeful, is determined to find a responsible party, no matter what the cost. Lydia's older brother, Nathan, is certain that the neighborhood bad boy Jack is somehow involved. But it's the youngest of the family-Hannah-who observes far more than anyone realizes and who may be the only one who knows the truth about what happened. A profoundly moving story of family, history, and the meaning of home, Everything I Never Told You is both a gripping page-turner and a sensitive family portrait, exploring the divisions between cultures and the rifts within a family, and uncovering the ways in which mothers and daughters, fathers and sons, and husbands and wives struggle, all their lives, to understand one another." (Provided by publisher.)

Crazy rich Asians by Kevin Kwan
"Crazy Rich Asians is the outrageously funny debut novel about three super-rich, pedigreed Chinese families and the gossip, backbiting, and scheming that occurs when the heir to one of the most massive fortunes in Asia brings home his ABC (American-born Chinese) girlfriend to the wedding of the season. When Rachel Chu agrees to spend the summer in Singapore with her boyfriend, Nicholas Young, she envisions a humble family home, long drives to explore the island, and quality time with the man she might one day marry. What she doesn't know is that Nick's family home happens to look like a palace, that she'll ride in more private planes than cars, and that with one of Asia's most eligible bachelors on her arm, Rachel might as well have a target on her back. Initiated into a world of dynastic splendor beyond imagination, Rachel meets Astrid, the It Girl of Singapore society; Eddie, whose family practically lives in the pages of the Hong Kong socialite magazines; and Eleanor, Nick's formidable mother, a woman who has very strong feelings about who her son should-and should not-marry. Uproarious, addictive, and filled with jaw-dropping opulence, Crazy Rich Asians is an insider's look at the Asian JetSet; a perfect depiction of the clash between old money and new money; between Overseas Chinese and Mainland Chinese; and a fabulous novel about what it means to be young, in love, and gloriously, crazily rich." (Provided by publisher.)
Minor feelings : an Asian American reckoning by Cathy Park Hong
"As the daughter of Korean immigrants, poet and essayist Cathy Park Hong grew up steeped in shame, suspicion, and melancholy. She would later understand that these 'minor feelings' occur when American optimism contradicts your own reality—when you believe the lies you're told about your own racial identity. Minor feelings are not small, they're dissonant—and in their tension Hong finds the key to the questions to haunt her. Part memoir and part cultural criticism, this book traces Hong's relationship to the English language, to depression, to poetry and female friendship. A radically honest work of art, Minor Feelings is an utterly original exploration of Asian American consciousness." (Provided by publisher.)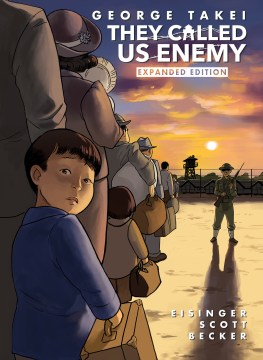 They called us enemy by George Takei, Justin Eisinger, Steve Scott; art by Harmony Becker
"Takei's firsthand account of years spent in a Japanese concentration camp, the joys and terrors of growing up under legalized racism, his mother's hard choices, his father's faith in democracy, and the way those experiences planted the seeds for his astonishing future." (Provided by publisher.)
Dogeaters by Jessica Hagedorn
"Welcome to Manila in the turbulent period of the Philippines' late dictator. It is a world in which American pop culture and local Filipino tradition mix flamboyantly, and gossip, storytelling, and extravagant behavior thrive.
A wildly disparate group of characters—from movie stars to waiters, from a young junkie to the richest man in the Philippines—becomes caught up in a spiral of events culminating in a beauty pageant, a film festival, and an assassination. In the center of this maelstrom is Rio, a feisty schoolgirl who will grow up to live in America and look back with longing on the land of her youth." (Provided by publisher.)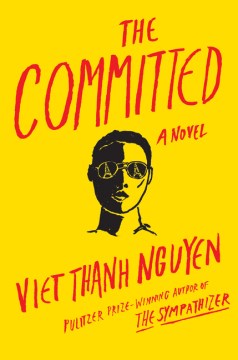 The committed by Viet Thanh Nguyen
"The astonishing sequel to The Sympathizer, winner of the 2016 Pulitzer Prize in Fiction, The Committed follows the 'man of two minds' as he comes to Paris as a refugee. There he and his blood brother Bon try to escape their pasts and prepare for their futures by turning their hands to capitalism in one of its purest forms: drug dealing. No longer in physical danger, but still inwardly tortured by his reeducation at the hands of his former best friend, and struggling to assimilate into a dominant culture, the Sympathizer is both charmed and disturbed by Paris. As he falls in with a group of left-wing intellectuals and politicians who frequent dinner parties given by his French Vietnamese 'aunt,' he finds not just stimulation for his mind but also customers for his merchandise-but the new life he is making has dangers he has not foreseen. Both literary thriller and brilliant novel of ideas, The Committed is a blistering portrayal of commitment and betrayal that will cement Viet Thanh Nguyen's position in the firmament of American letters." (Provided by publisher.)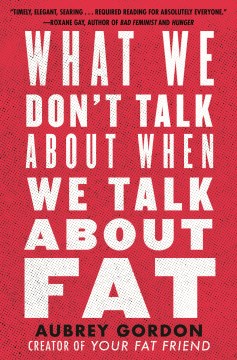 What we don't talk about when we talk about fat by Aubrey Gordon
"From the creator of Your Fat Friend, an explosive indictment on the systemic and cultural issues facing plus-sized people that will move us toward creating an agenda for fat justice." (Provided by publisher.)
A year in the art world : an insider's view by Matthew Israel
"In the last few decades, the world of contemporary art has become more globalized and visible than ever before. And yet this world has long been perceived as closed and obscure, provoking in the uninitiated a range of responses from reverence to bafflement and rage. Taking the reader on a cross-continental journey through a notional calendar year in the field of art, Matthew Israel lifts the veil on a world that emerges from his narrative as diverse, adventurous, nuanced and meaningful to all. From Los Angeles to Hong Kong via Paris and New York, the author travels among the world's best-known artists, curators, critics, gallerists and institutions as they work towards some of the art world's most defining international events. 'A Year in the Art World' relates the exploits of a curious insider, who ventures deep into the workings of the art industry to ask: what is it that people in the art world actually do? What drives an interest in working with art? How do artworks acquire value? And how has technology transformed the art world of today? Israel combines in-depth personal profiles with expert context to reveal both new and longstanding art world realities. From biennials in summer to auctions in the fall, this fascinating narrative reveals how 'the art world' describes a realm that is both surprisingly vast and deeply interconnected." (Provided by publisher.)
We should never meet : stories by Aimee Phan
"Compelling, moving, and beautifully written, the interlinked stories that make up We Should Never Meet alternate between Saigon before the city's fall in 1975 and present-day "Little Saigon" in Southern California—exploring the reverberations of the Vietnam War in a completely new light.
Intersecting the lives of eight characters across three decades and two continents, these stories dramatize the events of Operation Babylift, the U.S.-led evacuation of thousands of Vietnamese orphans to America just weeks before the fall of Saigon. Unwitting reminders of the war, these children were considered bui doi, the dust of life, and faced an uncertain, dangerous existence if left behind in Vietnam.
Four of the stories follow the saga of one orphan's journey from the points-of-view of a teenage mother, a duck farmer and a Catholic nun from the Mekong Delta, a social worker in Saigon, and a volunteer doctor from America. The other four take place twenty years later and chronicle the lives of four Vietnamese orphans now living in America: Kim, an embittered Amerasian searching for her unknown mother; Vinh, her gang member ex-boyfriend who preys on Vietnamese families; Mai, an ambitious orphan who faces her emancipation from the American foster-care system; and Huan, an Amerasian adopted by a white family, who returns to Vietnam with his adoptive mother.
We Should Never Meet is one of those rare books that truly takes an original look at the human condition—and marks the exciting debut of a major new writer for our time." (Provided by publisher.)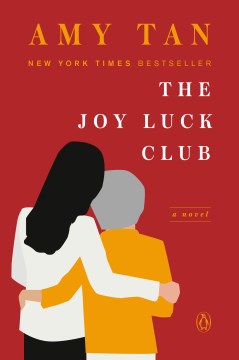 The Joy Luck Club by Amy Tan
"In 1949 four Chinese women, recent immigrants to San Francisco, begin meeting to eat dim sum, play mahjong, and talk. United in shared unspeakable loss and hope, they call themselves the Joy Luck Club. With wit and sensitivity, Amy Tan's debut novel—now widely regarded as a modern classic—examines the sometimes painful, often tender, and always deep connection between these four women and their American-born daughters." (Provided by publisher.)