Becoming by Michelle Obama
"An intimate, powerful, and inspiring memoir by the former First Lady of the United States. When she was a little girl, Michelle Robinson's world was the South Side of Chicago, where she and her brother, Craig, shared a bedroom in their family's upstairs apartment and played catch in the park, and where her parents, Fraser and Marian Robinson, raised her to be outspoken and unafraid. But life soon look her much further afield, from the halls of Princeton, where she learned for the first time what if felt like to be the only black woman in a room, to the glassy office tower where she worked as a high-powered corporate lawyer—and where, one summer morning, a law student named Barack Obama appeared in her office and upended all her carefully made plans. Here, for the first time, Michelle Obama describes the early years of her marriage as she struggles to balance her work and family with her husband's fast-moving political career. She takes us inside their private debate over whether he should make a run for the presidency and her subsequent role as a popular but oft-criticized figure during his campaign. Narrating with grace, good humor, and uncommon candor, she provides a vivid, behind-the-scenes account of her family's history-making launch into the global limelight as well as their life inside the White House over eight momentous years—as she comes to know her country and her country comes to know her. [This book] takes us through modest Iowa kitchens and ballrooms at Buckingham Palace, through moments of heart-stopping grief and profound resilience, bringing us deep into the soul of a singular, groundbreaking figure in history as she strives to live authentically, marshaling her personal strength and voice in service of a set of higher ideals. In telling her story with honesty and boldness, she issues a challenge to the rest of us: Who are we and who do we want to become?" (Dust jacket)
Hunger: a memoir of (my) body by Roxane Gay
"'I ate and ate and ate in the hopes that if I made myself big, my body would be safe. I buried the girl I had been because she ran into all kinds of trouble. I tried to erase every memory of her but she is still there, somewhere. ... I was trapped in my body, one I made but barely recognized or understood. I was miserable, but I was safe.' In this intimate and searing memoir, ... bestselling author Roxane Gay addresses the experience of living in a body that she calls 'wildly undisciplined.' She casts an insightful and critical eye over her childhood, teens, and twenties—including the devastating act of violence that was a turning point in her young life—and brings readers into the present and the realities, pains, and joys of her daily life. With the bracing candor, vulnerability, and authority that have made her one of the most admired voices of her generation, Roxane explores what it means to be overweight in a time when the bigger you are, the less you are seen. Hunger is a deeply personal memoir from one of our finest writers, and it tells a story that hasn't yet been told but needs to be." (Dust jacket.)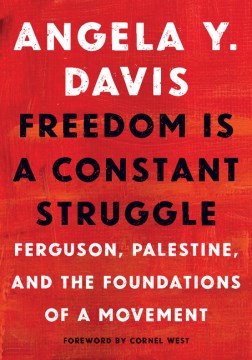 Freedom is a constant struggle : Ferguson, Palestine, and the foundations of a movement by Angela Y. Davis
"In these newly collected essays, interviews, and speeches, world-renowned activist and scholar Angela Y. Davis illuminates the connections between struggles against state violence and oppression throughout history and around the world. Reflecting on the importance of black feminism, intersectionality, and prison abolitionism for today's struggles, Davis discusses the legacies of previous liberation struggles, from the Black Freedom Movement to the South African anti-Apartheid movement. She highlights connections and analyzes today's struggles against state terror, from Ferguson to Palestine. Facing a world of outrageous injustice, Davis challenges us to imagine and build the movement for human liberation. And in doing so, she reminds us that 'Freedom is a constant struggle.'" (Provided by publisher.)
How we get free : black feminism and the Combahee River Collective edited and introduced by Keeanga-Yamahtta Taylor
"In the last several years, Black feminism has reemerged as the analytical framework for the activist response to the oppression of trans women of color, the fight for reproductive rights, and, of course, the movement against police abuse and violence. The most visible organizations and activists connected to the Black Lives Matter movement speak openly about how Black feminism shapes their politics and strategies today. The interviews I have compiled in this book—with the three authors of the Combahee River Collective Statement, Barbara Smith, Beverly Smith, and Demita Frazier, #BlackLivesMatter cofounder Alicia Garza, and historian and activist Barbara Ransby—are an attempt to show how these politics remain historically vibrant and relevant to the struggles of today. As Demita Frazier says, the point of talking about Combahee is not to be nostalgic; rather, we talk about it because Black women are still not free." (Keeanga-Yamahtta Taylor, from the introduction.)
Trick mirror: reflections of self-delusion by Jia Tolentino
"Trick Mirror is an enlightening, unforgettable trip through the river of self-delusion that surges just beneath the surface of our lives. This is a book about the incentives that shape us, and about how hard it is to see ourselves clearly through a culture that revolves around the self. In each essay, Tolentino writes about a cultural prism: the rise of the nightmare social internet; the advent of scamming as the definitive millennial ethos; the literary heroine's journey from brave to blank to bitter; the punitive dream of optimization, which insists that everything, including our bodies, should become more efficient and beautiful until we die. Gleaming with Tolentino's sense of humor and capacity to elucidate the impossibly complex in an instant, and marked by her desire to treat the reader with profound honesty, Trick Mirror is an instant classic of the worst decade yet." (Provided by publisher.)
Black girl dangerous : on race, queerness, class and gender by Mia McKenzie
"Mia McKenzie, creator of the enormously popular website Black Girl Dangerous, writes about race, queerness, class and gender in a concise, compelling voice filled at different times with humor, grief, rage, and joy. In this collection of her work from BGD (now available only in this book), McKenzie's nuanced analysis of intersecting systems of oppression goes deep to reveal the complicated truths of a multiply-marginalized experience. McKenzie tackles the hardest questions of our time with clarity and courage, in language that is accessible to non-academics and academics alike. She is both fearless and vulnerable, demanding and accountable. Hers is a voice like no other." (From publisher.)
"One of the most provocative and insightful writers of our generation." -Aura Bogado, Colorlines
"A fierce voice among a generation of queer and trans folk of color." -Janet Mock, New York Times Bestselling Author of "Redefining Realness"
"Tough-love activism at its best-straightforward, challenging, whip-smart, and uncompromising." -Andi Zeisler, Bitch Magazine
I know why the caged bird sings by Maya Angelou
"Here is a book as joyous and painful, as mysterious and memorable, as childhood itself. I Know Why the Caged Bird Sings captures the longing of lonely children, the brute insult of bigotry, and the wonder of words that can make the world right. Maya Angelou's debut memoir is a modern American classic beloved worldwide.

"Sent by their mother to live with their devout, self-sufficient grandmother in a small Southern town, Maya and her brother, Bailey, endure the ache of abandonment and the prejudice of the local 'powhitetrash.' At eight years old and back at her mother's side in St. Louis, Maya is attacked by a man many times her age—and has to live with the consequences for a lifetime. Years later, in San Francisco, Maya learns that love for herself, the kindness of others, her own strong spirit, and the ideas of great authors ('I met and fell in love with William Shakespeare') will allow her to be free instead of imprisoned.

"Poetic and powerful, I Know Why the Caged Bird Sings will touch hearts and change minds for as long as people read." (From publisher.)
Intimations: six essays by Zadie Smith
"Written during the early months of lockdown, Intimations explores ideas and questions prompted by an unprecedented situation. What does it mean to submit to a new reality–or to resist it? How do we compare relative sufferings? What is the relationship between time and work? In our isolation, what do other people mean to us? How do we think about them? What is the ratio of contempt to compassion in a crisis? When an unfamiliar world arrives, what does it reveal about the world that came before it?

Suffused with a profound intimacy and tenderness in response to these extraordinary times, Intimations is a slim, suggestive volume with a wide scope, in which Zadie Smith clears a generous space for thought, open enough for each reader to reflect on what has happened–and what should come next.

The author will donate her royalties from the sale of Intimations to charity." (Provided by publisher.)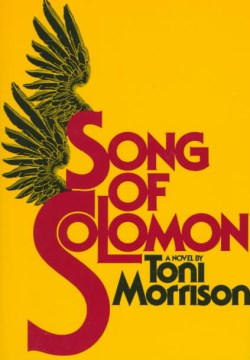 Song of Solomon by Toni Morrison
"Milkman Dead was born shortly after a neighborhood eccentric hurled himself off a rooftop in a vain attempt at flight. For the rest of his life he, too, will be trying to fly. As Morrison follows Milkman from his rustbelt city to the place of his family's origins, she introduces an entire cast of strivers and seeresses, liars and assassins, the inhabitants of a fully realized Black world." (From publisher.)
Ayiti by Roxane Gay
"Clever and haunting by turns, Ayiti explores the Haitian diaspora experience. A married couple seeking boat passage to America prepares to leave their homeland. A mother takes a foreign soldier into her home as a boarder, and into her bed. And a woman conceives a daughter on the bank of a river while fleeing a horrific massacre, a daughter who later moves to America for a new life but is perpetually haunted by the mysterious scent of blood. Wise, fanciful, and daring, Ayiti is the book that put Roxane Gay on the map and now, with two previously uncollected stories, confirms her singular vision." (From publisher.)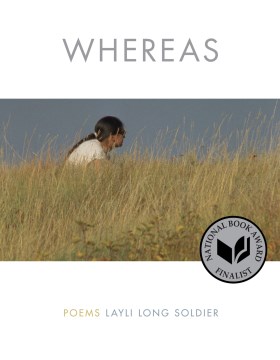 Whereas by Layli Long Soldier
"Whereas confronts the coercive language of the United States government in its responses, treaties, and apologies to Native American peoples and tribes, and reflects that language in its officiousness and duplicity back on its perpetrators. Through a virtuosic array of short lyrics, prose poems, longer narrative sequences, resolutions, and disclaimers, Layli Long Soldier has created a brilliantly innovative text to examine histories, landscapes, her own writing, and her predicament inside national affiliations. "I am," she writes, "a citizen of the United States and an enrolled member of the Oglala Sioux Tribe, meaning I am a citizen of the Oglala Lakota Nation—and in this dual citizenship I must work, I must eat, I must art, I must mother, I must friend, I must listen, I must observe, constantly I must live." This strident, plaintive book introduces a major new voice in contemporary literature." (From publisher.)
Uneasy careers and intimate lives : women in science, 1789-1979 by edited by Pnina G. Abir-Am and Dorinda Outram ; with a foreword by Margaret W. Rossiter
"It is by now a truism that women's careers in science face particular difficulties compared to those of men, and even special difficulties compared to those of women in other kinds of work. Our aim in this collection is to examine just how this unique situation has arisen in the past two centuries. We are especially interested in analyzing how the interplay between career and personal life has affected the participation of women in science.

"First, the case studies in this collection show how much women have contributed to science, whether measured in terms of conceptual innovation or the steady accumulation of small-scale discovery.

"Second, all the case studies in this collection focus on the ways in which family situation—whether defined as marital relations, relations with parents and siblings, or relations with mentors when they are explicitly substituted for absent biological family—imposed problems and induced strategies and approaches to scientific work that were specific to women.

"Third, these first two points, taken together, suggest that substantial modification needs to be made to the usual picture of the history of the structures of modern scientific organization as largely determined by a gradual process of professionalization." (PsycINFO Database Record (c) 2016 APA, all rights reserved.)
Yes Yoko Ono by Alexandra Munroe with Jon Hendricks ; with essays by David A. Ross, Murray Sayle, Jann S. Wenner ; contributions by Bruce Altshulers
"This illustrated book is the first full survey of the artist's career to include work in all media, including film and music. An introductory essay by Alexandra Munroe explores Ono's life, her relationship to international avant-garde movements in America and Japan, and the aspects of her art and thought that have guided her prolific production over four decades. Jon Hendrick's study of Ono and Fluxus offers new insights into her contributions to one of the most radical collectives in the history of modern art. Essays by Murray Sayle, David Ross, and Jann S. Wenner enrich our understanding of Ono's complex role as one of the most public icons of the late twentieth century." (Dust jacket.)
My life on the road by Gloria Steinem
"Gloria Steinem had an itinerant childhood. Every fall, her father would pack the family into the car and they would drive across the country, in search of their next adventure. The seeds were planted: Steinem would spend much of her life on the road, as a journalist, organizer, activist, and speaker. In vivid stories that span an entire career, Steinem writes about her time on the campaign trail, from Bobby Kennedy to Hillary Clinton; her early exposure to social activism in India, and the decades spent organizing ground-up movements in America; the taxi drivers who were "vectors of modern myths" and the airline stewardesses who embraced the feminist revolution; and the infinite, surprising contrasts, the "surrealism in everyday life" that Steinem encountered as she traveled back and forth across the country. With the unique perspective of one of the greatest feminist icons of the 20th and 21st centuries, here is an inspiring, profound, enlightening memoir of one woman's life-long journey." (From publisher.)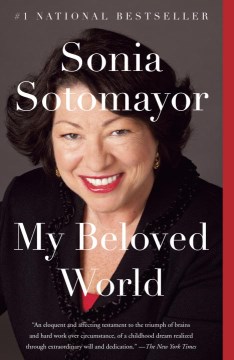 My beloved world by Sonia Sotomayor
"An instant American icon—the first Hispanic on the U.S. Supreme Court—tells the story of her life before becoming a judge in an inspiring, surprisingly personal memoir. With startling candor and intimacy, Sonia Sotomayor recounts her life from a Bronx housing project to the federal bench, a progress that is testament to her extraordinary determination and the power of believing in oneself. She writes of her precarious childhood and the refuge she took with her passionately spirited paternal grandmother. She describes her resolve as a young girl to become a lawyer, and how she made this dream become reality: valedictorian of her high school class, summa cum laude at Princeton, Yale Law, prosecutor in the Manhattan D.A.'s office, private practice, federal district judge before the age of forty. She writes about her deeply valued mentors, about her failed marriage, about her cherished family of friends. Through her still-astonished eyes, America's infinite possibilities are envisioned a new in this book" (From publisher.)
Life of the garment: poems by Deborah Gorlin
"In her vital, elegiac poems, Deborah Gorlin inventories her dead in urgent acts of recognition and commemoration. Family members both nuclear and extended appear in their native stories to reanimate local histories, intimate geographies, and lost times. In a different series of personae poems, Gorlin catalogues dolls and totems within their particular cultural habitats, which range from Africa to the Andes, and imagines their daemonic hopes, dreams and emotions. In a final act of inclusion, she takes stock of her own spiritual hesitations, yearnings, approximations, and explorations of such crazy topics as fingernails, Hebraic trees, and fat." (From publisher.)
Winner of the 2014 May Sarton New Hampshire Poetry Prize.
Deborah Gorlin is an Emerita Senior Faculty Associate at Hampshire College.
Grass whistle by Amy Dryansky
"Winner of the Massachusetts Book Award in Poetry, 2014. In her second collection of poems, Dryansky's intrepid speaker sets off once again, this time into the deceptively open field of adult life. Along the way she pushes at the boundaries of identity and connection, questioning our perceptions of selfhood and motherhood, marriage and relationships, fidelity and faith. These poems have a sense of humor; they play with language and meaning, but the questions they ask are serious: what do we want to be when we grow up? How will we know when we get there?" (From publisher.)
Amy Dryansky is the Director of the Culture, Brain & Development program at Hampshire College.
Sometimes in my dreams I fly by Andrea Dezsö
A catalog of an exhibition by the artist at the Rice University Art Gallery.
"Drawing on a Romanian childhood rich in imagination and dreams, Andrea Dezsö creates drawings, sculpture, installation, murals, artist's books, cut paper, and digital animation. She transforms personal narratives, lodged deep in her memories, into strange creatures, dream landscapes littered with body parts, and illuminated manuscripts. Dezsö also translates memories of her mother's aphorisms into embroidery and porcelain sculpture, referencing the domestic folk arts of her homeland. Her work is reminiscent of the surrealistic illustrations of Gary Baseman and Julie Heffernan." (Artist's notes.)
Andrea Dezsö is a Professor of Art at Hampshire College.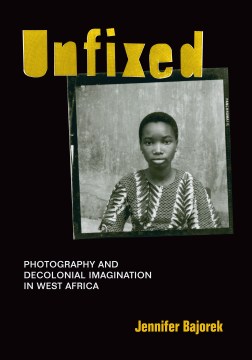 Unfixed : photography and decolonial imagination in West Africa by Jennifer Bajorek
"In 'Unfixed' Jennifer Bajorek races the relationship between photography and decolonial political imagination in Francophone West Africa in the years immediately leading up to and following independence from French colonial rule in 1960. Focusing on images created by photographers based in Senegal and Benin, Bajorek draws on formal analyses of images and ethnographic fieldwork with photographers to show how photography not only reflected but also actively contributed to social and political change. The proliferation of photographic imagery—through studio portraiture, bureaucratic ID cards, political reportage and photojournalism, magazines, and more—provided the means for west Africans to express their experiences, shape public and political discourse, and reimagine their world. In delineating how west Africans' embrace of photography was associated with and helped spur the democratization of political participation and the development of labor and liberation movements, Bajorek tells a new history of photography in west Africa—one that theorizes photography's capacity for doing decolonial work." (From publisher.)
Jennifer Bajorek is Dean of Humanities and Arts, as well as Professor of Comparative Literature and Visual Studies at Hampshire College.
The zoo in winter : selected poems by Polina Barskova; selected and translated by Boris Dralyuk and David Stromberg
"Opulent, playful, and sensual, Polina Barskova's poems have earned her a reputation as the finest Russian poet under forty. While steeped in Russian and classical culture, Barskova's work remains unmistakably contemporary, at once classic and edgy – always fresh, new and even startling. A major English-language event, this volume collects poems from seven earlier books as well as from her recent work, all previously untranslated into English. The Zoo In Winteris a remarkable menagerie of poems, of a strange and intoxicating beauty." (From publisher.)
Polina Barskova is an Associate Professor of Russian Literature at Hampshire College.
A shining affliction : a story of harm and healing in psychotherapy by Annie G. Rogers, Ph.D
"In this brave, iconoclastic, and utterly unique book, psychotherapist Annie Rogers chronicles her remarkable bond with Ben, a severely disturbed five-ear-old. Orphaned, fostered, neglected, and forgotten in a household fire, Ben finally begins to respond to Annie in their intricate and revealing platy therapy. But as Ben begins to explore the trauma of his past, Annie finds herself being drawn downward into her own mental anguish. Catastrophically failed by her own therapist, she is hospitalized with a breakdown that renders her unable to speak. Then she and her gifted new analyst must uncover where her story of childhood terror overlaps with Ben's, and learn how she can complete her work with the child by creating a new story from the old—one that ultimately heals them both." (From publisher.)
Annie Rogers is a Professor Emrita of Psychoanalysis and Clinical Psychology at Hampshire College.

Accomplice to memory by Q. M. Zhang
"In An Accomplice to Memory, Q. M. Zhang tries to piece together the fractured mystery of her father's exodus from China to the U. S. during the two decades of civil and world war leading up to the 1949 revolution. Part memoir, part novel, and part historical documentary, this hybrid text explores the silences and subterfuge of an immigrant parent, and the struggles of the second generation to understand the first. Zhang blurs the boundary between fiction and nonfiction, memory and imagination to tell the story of one woman working to understand and reimagine her family and her father." (From back cover.)
Kimberly Chang, who publishes under the name Q. M. Zhang, is an Associate Professor Emerita of Cultural Psychology and Creative Nonfiction.
Tap dancing America: a cultural history by Constance Valis Hill
"The first comprehensive, fully documented history of a uniquely American art form, exploring all aspects of the intricate musical and social exchange that evolved from Afro-Irish percussive step dances like the jig, gioube, buck-and-wing, and juba to the work of such contemporary tap luminaries as Gregory Hines, Brenda Bufalino, Dianne Walker, and Savion Glover." (From publisher.)
Constance Valis Hill is a Five College Professor Emrita of Dance.
The story of noble rot by Uzma Aslam Khan
"It is the careless abandon of a wine-satiated afternoon that first brings together the imperious Mrs. Masood and the humble carpenter's wife, Malika. As she observes the wealthy woman whose family is responsible for all her troubles, a plan takes shape in Malika's mind to recover the money Mrs. Masood owes her husband, and rescue her son from slow death in Mr. Masood's carpet factory. Unknown to both women, the moment marks the beginning of relationship that is to change their lives forever. Vividly narrated and full of funny yet complex dilemmas, this is a novel about the sweetness of life and about how we inexorably drive ourselves to our own doom. It marks the debut of a gifted storyteller from Pakistan." (From publisher.)
Uzma Aslam Khan is an Associate Professor of Fiction Writing at Hampshire College.
Consuming fantasies : labor, leisure, and the London shopgirl, 1880-1920 by Lise Shapiro Sanders
"The shopgirl was the subject of popular novels, newspaper articles, and political treatises on women's work and leisure at the turn of the twentieth century. But who exactly was she, and why did she feature in so many narratives about women, sexuality, and urban life? In Consuming Fantasies: Labor, Leisure, and the London Shopgirl, 1880-1920, Lise Shapiro Sanders examines the cultural significance of the shopgirl-both historical figure and fictional heroine-from the end of Queen Victoria's reign through the First World War. As the author reveals, the shopgirl embodied the fantasies associated with a growing consumer culture: romantic adventure, upward mobility, and the acquisition of material goods. Reading novels such as George Gissing's The Odd Women and W. Somerset Maugham's Of Human Bondage as well as short stories, musical comedies, and films, Sanders argues that the London shopgirl appeared in the midst of controversies over sexual morality and the pleasures and dangers of London itself. Sanders explores the shopgirl's centrality to modern conceptions of fantasy, desire, and everyday life for working women and argues for her as a key figure in cultural and social histories of the period. This innovative interdisciplinary study makes an important contribution to research on women, class, and consumer culture and will appeal to scholars, students, and enthusiasts of Victorian and Edwardian life and literature." (From publisher.)
Lise Sanders is a Professor of English Literature & Cultural Studies at Hampshire College, as well as a Hampshire alum. She is teaching at Amherst College through Spring 2021.
Radical Writing Center Praxis by Laura Greenfield
""Imagining a writing center where directors and staff become agents in active social justice on campus and beyond. Introducing activist concepts and vocabulary challenging writing centers to recognize their complicity with oppressive systems. A call for a process of critical self-reflection and change to an activist paradigm." (From publisher.)
Laura Greenfield is a Faculty Associate in communication and education at Hampshire College.
Undivided rights : women of color organize for reproductive justice by Jael Silliman, Marlene Gerber Fried, Loretta Ross, Elena R. Gutiérrez
"Undivided Rights captures the evolving and largely unknown activist history of women of color organizing for reproductive justice—on their own behalf.

Undivided Rights presents a textured understanding of the reproductive rights movement by placing the experiences, priorities, and activism of women of color in the foreground. Using historical research, original organizational case studies, and personal interviews, the authors illuminate how women of color have led the fight to control their own bodies and reproductive destinies. Undivided Rights shows how women of color—-starting within their own Latina, African American, Native American, and Asian American communities—have resisted coercion of their reproductive abilities. Projected against the backdrop of the mainstream pro-choice movement and radical right agendas, these dynamic case studies feature the groundbreaking work being done by health and reproductive rights organizations led by women-of-color.

The book details how and why these women have defined and implemented expansive reproductive health agendas that reject legalistic remedies and seek instead to address the wider needs of their communities. It stresses the urgency for innovative strategies that push beyond the traditional base and goals of the mainstream pro-choice movement—strategies that are broadly inclusive while being specific, strategies that speak to all women by speaking to each woman. While the authors raise tough questions about inclusion, identity politics, and the future of women's organizing, they also offer a way out of the limiting focus on "choice."

Undivided Rights articulates a holistic vision for reproductive freedom. It refuses to allow our human rights to be divvied up and parceled out into isolated boxes that people are then forced to pick and choose among." (From publisher.)
Marlene Gerber Fried is a Professor of Philosophy at Hampshire, as well as the Faculty Director of CLPP.
Time for childhoods : young poets and questions of agency by Rachel Conrad
"Poems written by children are not typically part of the literary canon. Because of cultural biases that frame young people as intellectually and artistically immature, these works are often excluded or dismissed as juvenilia. Rachel Conrad contends that youth-composed poems should be read as literary works in their own right—works that are deserving of greater respect in literary culture. Time for Childhoods presents a selection of striking twentieth- and twenty-first-century American poetry written by young people, and highlights how young poets imagined and shaped time for their own poetic purposes. Through close engagement with archival materials, as well as select interviews and correspondence with adult mentors, Conrad discerns how young writers figured social realities and political and racial injustices, and discusses what important advocates such as Gwendolyn Brooks and June Jordan can teach us about supporting the agency of young poets. This essential study demonstrates that young poets have much to contribute to ongoing conversations about time and power." (From publisher.)
Rachel Conrad is the Director of Academic Innovation and Professor of Childhood Studies at Hampshire College.