Dark Archives, 1-41 by Andre Bradley
"Dark Archives by artist Andre Bradley is a provocative exploration of one black man's memories of childhood. An autobiography in fragments, Dark Archives interweaves Bradley's writing and photographs with pictures from his family archive. Part story, part lyrical investigation, Dark Archives aims to upset the linguistic and visual constrictions placed on black males. Bradley powerfully combines image and text in this deeply moving meditation on narrative agency, on the family as archive, on being a young black man, and on being Andre Bradley." (Provided by publisher.)
Bradley is a Hampshire alum and is a visiting faculty member for the Spring 2021 semester.
How I Discovered Poetry by Marilyn Nelson
"A powerful and thought-provoking Civil Rights era memoir from one of America s most celebrated poets. Looking back on her childhood in the 1950s, Newbery Honor winner and National Book Award finalist Marilyn Nelson tells the story of her development as an artist and young woman through fifty eye-opening poems. Readers are given an intimate portrait of her growing self-awareness and artistic inspiration along with a larger view of the world around her: racial tensions, the Cold War era, and the first stirrings of the feminist movement." (Provided by publisher.)
A Coretta Scott King Author Honor Book
Felon: poems by Reginald Dwayne Betts
"A searing volume by a poet whose work conveys 'the visceral effect that prison has on identity' (Michiko Kakutani, New York Times). Felon tells the story of the effects of incarceration in fierce, dazzling poems-canvassing a wide range of emotions and experiences through homelessness, underemployment, love, drug abuse, domestic violence, fatherhood, and grace-and, in doing so, creates a travelogue for an imagined life. Reginald Dwayne Betts confronts the funk of postincarceration existence and examines prison not as a static space, but as a force that enacts pressure throughout a person's life. The poems move between traditional and newfound forms with power and agility-from revolutionary found poems created by redacting court documents to the astonishing crown of sonnets that serves as the volume's radiant conclusion. Drawing inspiration from lawsuits filed on behalf of the incarcerated, the redaction poems focus on the ways we exploit and erase the poor and imprisoned from public consciousness. Traditionally, redaction erases what is top secret; in Felon, Betts redacts what is superfluous, bringing into focus the profound failures of the criminal justice system and the inadequacy of the labels it generates. Challenging the complexities of language, Betts animates what it means to be a 'felon.'" (Provided by publisher.)
The Breakthrough: Politics and Race in the Age of Obama by Gwen Ifill
"Veteran journalist Ifill sheds new light on the impact of Barack Obama's presidential victory and introduces the emerging African American politicians forging a new path to political power. Ifill argues that the Black political structure formed during the Civil Rights movement is giving way to a generation who are the direct beneficiaries of the struggles of the 1960s. She offers detailed profiles of such prominent leaders as Newark Mayor Cory Booker, Massachusetts Governor Deval Patrick, and U.S. Congressman Artur Davis of Alabama, as well as numerous up-and-coming figures. Drawing on exclusive interviews with power brokers such as President Obama, Colin Powell, Vernon Jordan, the Reverend Jesse Jackson, his son Congressman Jesse Jackson Jr., and many others, as well as her own observations and analysis of such issues as generational conflict, the race/gender clash, and the 'black enough' conundrum, Ifill shows why this is a pivotal moment in history." (Provided by publisher.)
The Racial Imaginary: Writers on Race in the Life of the Mind edited by Claudia Rankine, Beth Loffreda, and Max King Cap
"To think of creativity in terms of transcendence is itself specific and partial—a lovely dream perhaps, but an inhuman one. "It is not only white writers who make a prize of transcendence, of course. Many writers of all backgrounds see the imagination as a historical, as a generative place where race doesn't and shouldn't enter, a place of bodies that transcend the legislative, the economic—in other words, transcend the stuff that doesn't lend itself much poetry. In this view the imagination is postracial, a posthistorical and postpolitical utopia. . . . To bring up race for these writers is to inch close to the anxious space of affirmative action, the scarring qualifieds. "So everyone is here." –Claudia Rankine and Beth Loffreda, from the introduction In 2011, a poem published in a national magazine by a popular white male poet made use of a black female body. A conversation ensued, and ended. Claudia Rankine subsequently created Open Letter, a web forum for writers to relate the effects and affects of racial difference and to explore art's failure, thus far, to adequately imagine" (Provided by publisher.)
To the Mountaintop : My Journey Through the Civil Rights Movement by Charlayne Hunter-Gault
"A personal history of the civil rights movement from activist and acclaimed journalist Charlayne Hunter-Gault.
On January 20, 2009, 1.8 million people crowded the grounds of the Capitol to witness the inauguration of Barack Obama. Among the masses was Charlayne Hunter-Gault. She had flown from South Africa for the occasion, to witness what was for many the culmination of the long struggle for civil rights in the United States. In this compelling personal history, she uses the event to look back on her own involvement in the civil rights movement, as one of two black students who forced the University of Georgia to integrate, and to relate the pivotal events that swept the South as the movement gathered momentum through the early 1960s.
With poignant black-and-white photos, original articles from the New York Times, and a unique personal viewpoint, this is a moving tribute to the men and women on whose shoulders Obama stood." (Provided by publisher.)
For Colored Girls Who Have Considered Suicide, When the Rainbow is Enuf : a Choreopoem by Ntozake Shange
"First published in 1975, Shange's choreopoem has been read and performed because it truly revealed what it meant to be of color and female in the twentieth century. Here is the complete text, with stage directions of the dramatic prose poem that resonates with unusual beauty in its fierce message to the world." (Provided by publisher.)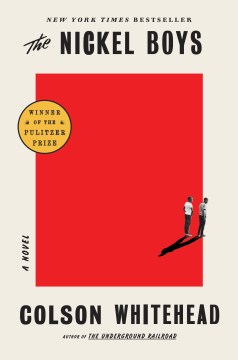 The Nickel Boys: A Novel by Colson Whitehead
"In this bravura follow-up to the Pulitzer Prize, and National Book Award-winning The Underground Railroad, Colson Whitehead brilliantly dramatizes another strand of American history through the story of two boys sentenced to a hellish reform school in Jim Crow-era Florida. As the Civil Rights movement begins to reach the black enclave of Frenchtown in segregated Tallahassee, Elwood Curtis takes the words of Dr. Martin Luther King to heart: He is "as good as anyone." Abandoned by his parents, but kept on the straight and narrow by his grandmother, Elwood is about to enroll in the local black college. But for a black boy in the Jim Crow South of the early 1960s, one innocent mistake is enough to destroy the future. Elwood is sentenced to a juvenile reformatory called the Nickel Academy, whose mission statement says it provides "physical, intellectual and moral training" so the delinquent boys in their charge can become "honorable and honest men." In reality, the Nickel Academy is a grotesque chamber of horrors where the sadistic staff beats and sexually abuses the students, corrupt officials and locals steal food and supplies, and any boy who resists is likely to disappear "out back." Stunned to find himself in such a vicious environment, Elwood tries to hold onto Dr. King's ringing assertion "Throw us in jail and we will still love you." His friend Turner thinks Elwood is worse than naive, that the world is crooked, and that the only way to survive is to scheme and avoid trouble. The tension between Elwood's ideals and Turner's skepticism leads to a decision whose repercussions will echo down the decades. Formed in the crucible of the evils Jim Crow wrought, the boys' fates will be determined by what they endured at the Nickel Academy." (Provided by publisher.)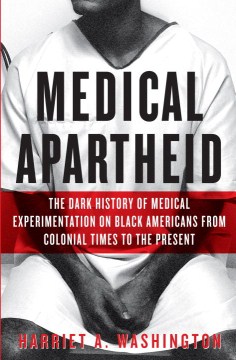 Medical Apartheid: The Dark History of Medical Experimentation on Black Americans from Colonial Times to the Present by Harriet A. Washington
"The first comprehensive history of medical experimentation on African Americans. Starting with the earliest encounters between Africans and Western medical researchers and the racist pseudoscience that resulted, it details the way both slaves and freedmen were used in hospitals for experiments conducted without a hint of informed consent—a tradition that continues today within some black populations. It shows how the pseudoscience of eugenics and social Darwinism was used to justify experimental exploitation and shoddy medical treatment of blacks, and a view that they were biologically inferior, oversexed, and unfit for adult responsibilities. New details about the government's Tuskegee experiment are revealed, as are similar, less well-known medical atrocities conducted by the government, the armed forces, and private institutions. This book reveals the hidden underbelly of scientific research and makes possible, for the first time, an understanding of the roots of the African American health deficit." (Provided by publisher.)
Caste: The Origins of Our Discontents by Isabel Wilkerson
"As we go about our daily lives, caste is the wordless usher in a darkened theater, flashlight cast down in the aisles, guiding us to our assigned seats for a performance. The hierarchy of caste is not about feelings or morality. It is about power—which groups have it and which do not." In this brilliant book, Isabel Wilkerson gives us a masterful portrait of an unseen phenomenon in America as she explores, through an immersive, deeply researched narrative and stories about real people, how America today and throughout its history has been shaped by a hidden caste system, a rigid hierarchy of human rankings. Beyond race, class, or other factors, there is a powerful caste system that influences people's lives and behavior and the nation's fate. Linking the caste systems of America, India, and Nazi Germany, Wilkerson explores eight pillars that underlie caste systems across civilizations, including divine will, bloodlines, stigma, and more. Using riveting stories about people—including Martin Luther King, Jr., baseball's Satchel Paige, a single father and his toddler son, Wilkerson herself, and many others—she shows the ways that the insidious undertow of caste is experienced every day. She documents how the Nazis studied the racial systems in America to plan their out-cast of the Jews; she discusses why the cruel logic of caste requires that there be a bottom rung for those in the middle to measure themselves against; she writes about the surprising health costs of caste, in depression and life expectancy, and the effects of this hierarchy on our culture and politics. Finally, she points forward to ways America can move beyond the artificial and destructive separations of human divisions, toward hope in our common humanity. Beautifully written, original, and revealing, Caste: The Origins of Our Discontents is an eye-opening story of people and history, and a reexamination of what lies under the surface of ordinary lives and of America life today" (Provided by publisher.)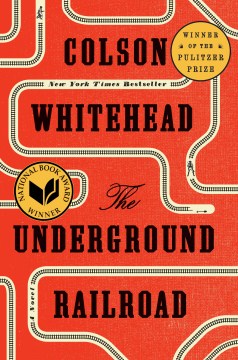 The Underground Railroad: A Novel by Colson Whitehead
"Cora is a slave on a cotton plantation in Georgia. When Caesar, a recent arrival from Virginia, tells her about the Underground Railroad, they decide to take a terrifying risk and escape. Though they manage to find a station and head north, they are being hunted. Their first stop is South Carolina, in a city that initially seems like a haven. But the city's placid surface masks an insidious scheme designed for its black denizens. And even worse: Ridgeway, the relentless slave catcher, is close on their heels. Forced to flee again, Cora embarks on a harrowing flight, state by state, seeking true freedom." (Provided by publisher.)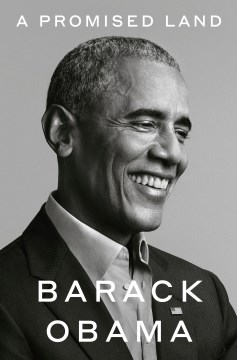 A Promised Land by Barack Obama
"Obama tells the story of his improbable odyssey from young man searching for his identity to leader of the free world, describing in strikingly personal detail both his political education and the landmark moments of the first term of his historic presidency—a time of dramatic transformation and turmoil." (Provided by publisher.)
The Truths We Hold: An American Journey by Kamala Harris
"The autobiographical memoir of the first woman, African American, and South Asian American to become attorney general of the State of California, and the second black woman ever elected to the United States Senate. Harris discusses the impact that her family and community had on her life, and how she came to discover her own sense of self and purpose." (Provided by publisher.)
Black Movie by Danez Smith
"These harrowing poems make montage, make mirrors, make elegiac biopic, make 'a dope ass trailer with a hundred black children / smiling into the camera & the last shot is the wide mouth of a pistol.' That's no spoiler alert, but rather, Smith's way—saying & laying it beautifully bare. A way of desensitizing the reader from his own defenses each time this long, black movie repeats." –Marcus Wicker
"Danez Smith's BLACK MOVIE is a cinematic tour-de-force that lets poetry vie with film for the honor of which medium can most effectively articulate the experience of Black America." –Rain Taxi
Race After Technology by Ruha Benjamin
"From everyday apps to complex algorithms, Ruha Benjamin cuts through tech-industry hype to understand how emerging technologies can reinforce white supremacy and deepen social inequity. Far from a sinister story of racist programmers scheming on the dark web, Benjamin argues that automation has the potential to hide, speed, and even deepen discrimination, while appearing neutral and even benevolent when compared to racism of a previous era. Presenting the concept of the New Jim Code, she shows how a range of discriminatory designs encode inequity: by explicitly amplifying racial hierarchies, by ignoring but thereby replicating social divisions, or by aiming to fix racial bias but ultimately doing quite the opposite. Moreover, she makes a compelling case for race itself as a kind of tool a technology designed to stratify and sanctify social injustice that is part of the architecture of everyday life. This illuminating guide into the world of biased bots, altruistic algorithms, and their many entanglements provides conceptual tools to decode tech promises with sociologically informed skepticism. In doing so, it challenges us to question not only the technologies we are sold, but also the ones we manufacture ourselves." (Provided by publisher.)
A Fool's Errand : Creating the National Museum of African American History and Culture in the Age of Bush, Obama, and Trump by Lonnie G. Bunch III
"Founding Director Lonnie Bunch's inside story of how the Smithsonian National Museum of African American History and Culture was created. By turns inspiring, funny, frustrating, quixotic, and bittersweet, this is his deeply personal tale of the challenges and rewards of bringing a nationally acclaimed new institution to life." (Provided by publisher.)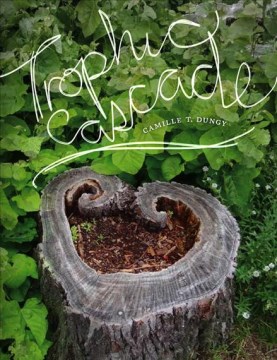 Trophic Cascade by Camille T. Dungy
"These poems are survival narratives, positioned at a fulcrum, bringing a new life into the world even as her elders are passing on. In a time of environmental degradation, violence and abuse of power, a world in which we all must survive, these poems resonate within and beyond the scope of the human realms, delicately balancing between conflicting loci of attention. Dwelling between vibrancy and its opposite, the author writes in a single poem about a mother, a daughter, Smokin' Joe Frazier, brittle stars, giant boulders, and a dead blue whale. These poems are written in the face of despair to hold an impossible love and a commitment to hope." (Provided by publisher.)
Homie: Poems by Danez Smith
"Homie is Danez Smith's magnificent anthem about the saving grace of friendship. Rooted in the loss of one of Smith's close friends, this book comes out of the search for joy and intimacy within a nation where both can seem scarce and getting scarcer. In poems of rare power and generosity, Smith acknowledges that in a country overrun by violence, xenophobia, and disparity, and in a body defined by race, queerness, and diagnosis, it can be hard to survive, even harder to remember reasons for living. But then the phone lights up, or a shout comes up to the window, and family--blood and chosen--arrives with just the right food and some redemption. Part friendship diary, part bright elegy, part war cry, Homie is the exuberant new book written for Danez and for Danez's friends and for you and for yours." (Provided by publisher.)
Teaching to Transgress: Education as the Practice of Freedom by bell hooks
"In Teaching to Transgress, bell hooks—writer, teacher, and insurgent black intellectual—writes about a new kind of education, education as the practice of freedom. Teaching students to "transgress" against racial, sexual, and class boundaries in order to achieve the gift of freedom is, for hooks, the teacher's most important goal.
bell hooks speaks to the heart of education today: how can we rethink teaching practices in the age of multiculturalism? What do we do about teachers who do not want to teach, and students who do not want to learn? How should we deal with racism and sexism in the classroom?
Full of passion and politics, Teaching to Transgress combines a practical knowledge of the classroom with a deeply felt connection to the world of emotions and feelings. This is the rare book about teachers and students that dares to raise questions about eros and rage, grief and reconciliation, and the future of teaching itself.
'To educate is the practice of freedom,' writes bell hooks, 'is a way of teaching anyone can learn.' Teaching to Transgress is the record of one gifted teacher's struggle to make classrooms work." (Provided by publisher.)
Scale by Nathan McClain
"An astonishing debut, Nathan McClain's Scale is a fierce and unflinching look at the bonds between father and son. From Superman's Fortress of Solitude to Edward Hopper's Nighthawks, at koi ponds and outside Eden, these poems search for answers to the question 'how do we reckon with the past?' Witty, tender, and full of fire, here is a collection from a powerful, assured new voice." (Provided by publisher.)
Nathan McClain is a visiting assistant professor of creative writing and African American literary arts at Hampshire.