An unkindness of ghosts by Rivers Solomon
"Aster has little to offer folks in the way of rebuttal when they call her ogre and freak. She's used to the names; she only wishes there was more truth to them. If she were truly a monster, she'd be powerful enough to tear down the walls around her until nothing remains of her world. Aster lives in the lowdeck slums of the HSS Matilda, a space vessel organized much like the antebellum South. For generations, Matilda has ferried the last of humanity to a mythical Promised Land. On its way, the ship's leaders have imposed harsh moral restrictions and deep indignities on dark-skinned sharecroppers like Aster. Embroiled in a grudge with a brutal overseer, Aster learns there may be a way to improve her lot--if she's willing to sow the seeds of civil war." (Provided by publisher.)
Black girl dangerous : on race, queerness, class and gender by Mia McKenzie
"Mia McKenzie, creator of the enormously popular website BGD, writes about race, queerness, class and gender in a concise, compelling voice filled at different times with humor, grief, rage, and joy. In this collection of her work from BGD (now available only in this book), McKenzie's nuanced analysis of intersecting systems of oppression goes deep to reveal the complicated truths of a multiply-marginalized experience. McKenzie tackles the hardest questions of our time with clarity and courage, in language that is accessible to non-academics and academics alike. She is both fearless and vulnerable, demanding and accountable. Hers is a voice like no other." (Provided by publisher.)
Unapologetic : a Black, queer, and feminist mandate for radical movements by Charlene A. Carruthers
"Unapologetic is a 21st century guide to building a Black liberation movement through a Black queer feminist lens." (Provided by publisher.)

No ashes in the fire : coming of age black & free in America by Darnell L. Moore
"As a teenager, Moore was tall and awkward and constantly bullied for being gay. And one afternoon three boys from his neighborhood doused him with gasoline and tried lighting a match. What happens to the black boys who come of age in neglected, poor, heavily policed, and economically desperate cities that the War on Drugs and mass incarceration have created? It wasn't until Darnell was pushed into the spotlight at a Newark rally after the murder of a young queer woman that he became a leading organizer with Black Lives Matter, a movement that recognized him and insisted that his life mattered. Here Moore gives voice to the rich, varied experiences of all those who survive on the edges of the margins." (Provided by publisher.)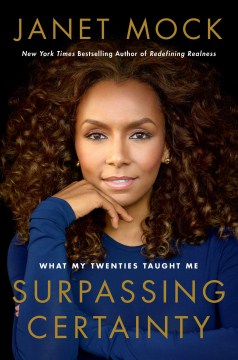 Surpassing certainty : what my twenties taught me by Janet Mock
"Riveting, rousing, and utterly real, Surpassing Certainty is a portrait of a young woman searching for her purpose and place in the world—without a road map to guide her. The journey begins a few months before her twentieth birthday. Janet Mock is adjusting to her days as a first-generation college student at the University of Hawaii and her nights as a dancer at a strip club. Finally content in her body, she vacillates between flaunting and concealing herself as she navigates dating and disclosure, sex and intimacy, and most important, letting herself be truly seen. Under the neon lights of Club Nu, Janet meets Troy, a yeoman stationed at Pearl Harbor naval base, who becomes her first. The pleasures and perils of their union serve as a backdrop for Janet's progression through her early twenties with all the universal growing pains—falling in and out of love, living away from home, and figuring out what she wants to do with her life. Despite her disadvantages, fueled by her dreams and inimitable drive, Janet makes her way through New York City while holding her truth close. She builds a career in the highly competitive world of magazine publishing—within the unique context of being trans, a woman, and a person of color. Long before she became one of the world's most respected media figures and lauded leaders for equality and justice, Janet was a girl taking the time she needed to just be—to learn how to advocate for herself before becoming an advocate for others. As you witness Janet's slow-won success and painful failures, Surpassing Certainty will embolden you, shift the way you see others, and affirm your journey in search of self." (Provided by publisher.)
Fairest : a memoir by Meredith Talusan
"As a boy with albinism, coping with the strain of parental neglect in a rural Philippine village, Talusan found childhood comfort in America from her devoted grandmother, a grounding force as she was treated by others with special preference or public curiosity. As an immigrant to the United States, Talusan came to be perceived as white. An academic scholarship to Harvard required Talusan to navigate through the complex spheres of race, class, sexuality, and her place within the gay community. She emerged as an artist and an activist questioning the boundaries of gender. Talusan realized she did not want to be confined to a prescribed role as a man, and transitioned to become a woman, despite the risk of losing a man she deeply loved" (From jacket.)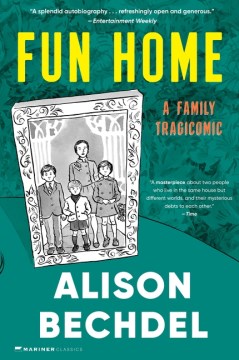 Fun home : a family tragicomic by Alison Bechdel
"This book takes its place alongside the unnerving, memorable, darkly funny family memoirs of Augusten Burroughs and Mary Karr. It's a father-daughter tale perfectly suited to the graphic memoir form. Meet Alison's father, a historic preservation expert and obsessive restorer of the family's Victorian house, a third-generation funeral home director, a high school English teacher, an icily distant parent, and a closeted homosexual who, as it turns out, is involved with male students and a family babysitter. Through narrative that is alternately heartbreaking and fiercely funny, we are drawn into a daughter's complex yearning for her father. And yet, apart from assigned stints dusting caskets at the family-owned 'fun home,' as Alison and her brothers call it, the relationship achieves its most intimate expression through the shared code of books. When Alison comes out as homosexual herself in late adolescence, the denouement is swift, graphic, and redemptive." (Provided by publisher.)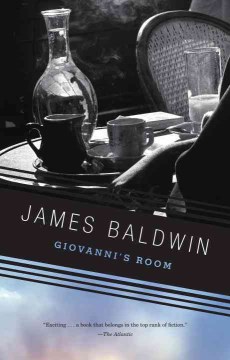 Giovanni's room by James Baldwin
"Set in the 1950s Paris of American expatriates, liaisons, and violence, a young man finds himself caught between desire and conventional morality." (Provided by publisher.)
James Baldwin taught at Hampshire College in the early 1980s. In 1992, the college established the Baldwin Scholars Program in his name.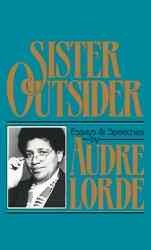 Sister outsider : essays and speeches by Audre Lorde
"In this charged collection of fifteen essays and speeches, Lorde takes on sexism, racism, ageism, homophobia, and class, and propounds social difference as a vehicle for action and change. Her prose is incisive, unflinching, and lyrical, reflecting struggle but ultimately offering messages of hope. This commemorative edition includes a new foreword by Lorde-scholar and poet Cheryl Clarke, who celebrates the ways in which Lorde's philosophies resonate more than twenty years after they were first published." (Provided by publisher.)
Bestiary : a novel by K-Ming Chang
"One evening, Ma tells Daughter a story about a tiger spirit who lived in a woman's body, named Hu Gu Po. She hungered to eat children, especially their toes. Soon afterwards, Daughter awakes with a tiger tail. And more mysterious events follow: Holes in the backyard spit up letters penned by her grandmother; a visiting aunt leaves red on everything she touches; another aunt arrives with eels in her belly. All the while, Daughter is falling for her neighbor, a girl named Ben with mysterious powers of her own. As the two young lovers translate the grandmother's letters, Daughter begins to understand that each woman in her family embodies an old Taiwanese myth--and that she will have to bring her family's secrets to light in order to change their destiny. With a poetic voice of crackling electricity, K-Ming Chang is an explosive young writer who combines the wit and fabulism of Helen Oyeyemi with the magical realist aesthetic of Maxine Hong Kingston. Tracing one family's history from Mainland China to Taiwan, from Arkansas to California, Bestiary is a novel of migration, queer lineages, and womanhood." (Provided by publisher.)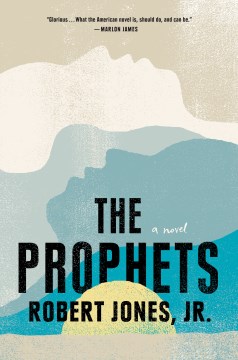 The prophets : a novel by Robert Jones, Jr.
"Isaiah was Samuel's and Samuel was Isaiah's. In the barn they tended to the animals, but also to each other, transforming the hollowed-out shed into a place of human refuge, a source of intimacy and hope in a world ruled by vicious masters. When an older fellow slave seeks to gain favor by preaching the master's gospel on the plantation, the enslaved begin to turn on their own. Isaiah and Samuel's love, which was once so simple, is seen as sinful and a clear danger to the plantation's harmony." (From jacket.)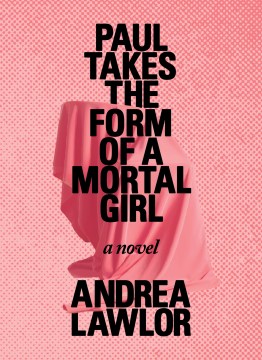 Paul takes the form of a mortal girl : a novel / Andrea Lawlor
"It's 1993 and Paul Polydoris tends bar at the only gay club in a university town thrumming with politics and partying. He studies queer theory, has a dyke best friend, makes zines, and is a flâneur with a rich dating life. But Paul's also got a secret: he's a shapeshifter. Oscillating wildly from Riot Grrrl to leather cub, Women's Studies major to trade, Paul transforms his body at will in a series of adventures that take him from Iowa City to Boystown to Provincetown and finally to San Francisco--a journey through the deep queer archives of struggle and pleasure. Andrea Lawlor's debut novel offers a speculative history of early '90s identity politics during the heyday of ACT UP and Queer Nation. Paul Takes the Form of a Mortal Girl is a riotous, razor-sharp bildungsroman whose hero/ine wends his way through a world gutted by loss, pulsing with music, and opening into an array of intimacy and connections." (Provided by publisher.)
Andrea Lawlor teaches at Mount Holyoke College.
Juliet takes a breath by Gabby Rivera
"Juliet Milagros Palante is leaving the Bronx and headed to Portland, Oregon. She just came out to her family and isn't sure if her mom will ever speak to her again. But Juliet has a plan, sort of, one that's going to help her figure out this whole "Puerto Rican lesbian" thing. She's interning with the author of her favorite book: Harlowe Brisbane, the ultimate authority on feminism, women's bodies, and other gay-sounding stuff. Will Juliet be able to figure out her life over the course of one magical summer? Is that even possible? Or is she running away from all the problems that seem too big to handle? With more questions than answers, Juliet takes on Portland, Harlowe, and most importantly, herself" (Provided by publisher.)
What's your pronoun? : beyond he & she by Dennis Baron
"The story of how we got from he and she to zie and hir and singular they. Like trigger warnings and gender-neutral bathrooms, pronouns are suddenly sparking debate, prompting new policies in schools, workplaces, even prisons, about what pronouns to use. Colleges ask students to declare their pronouns; corporate conferences print nametags with space for people to add their pronouns; email signatures sport pronouns along with names and titles. Far more than a byproduct of campus politics or culture wars, gender-neutral pronouns are in fact nothing new. Renowned linguist Dennis Baron puts them in historical context, demonstrating that Shakespeare used singular they; that women evoked the generic use of he to assert the right to vote (while those opposed to women's rights invoked the same word to assert that he did not include she), and that self-appointed language experts have been coining new gender pronouns, not just hir and zie but hundreds more, like thon, ip, and em, for centuries. Based on Baron's own empirical research, What's Your Pronoun? tells the untold story of gender-neutral and nonbinary pronouns" (Provided by publisher.)
Intersex : a memoir by Aaron Apps
"In this hybrid-genre memoir, intersexed author Aaron Apps adopts and upends historical descriptors of hermaphroditic bodies such as 'freak of nature, ' 'hybrid, ' 'imposter, ' 'sexual pervert, ' and 'unfortunate monstrosity' in order to trace his own monstrous sex as it perversely intertwines with gender expectations and medical discourse." (Back cover.)
Felix ever after by Kacen Callender
"Felix Love has never been in love, painful irony that it is. He desperately wants to know why it seems so easy for everyone but him to find someone. He is proud of his identity, but fears that he's one marginalization too many—Black, queer, and transgender. When an anonymous student begins sending him transphobic messages—after publicly posting Felix's deadname alongside images of him before he transitioned—Felix comes up with a plan for revenge. He didn't count on his catfish scenario landing him in a quasi-love triangle." (From jacket.)
A Stonewall Honor Book.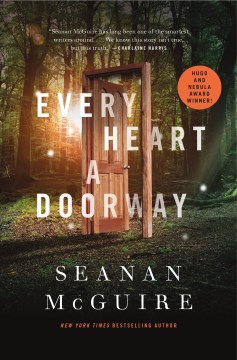 Every heart a doorway by Seanan McGuire
"Children have always disappeared from Eleanor West's Home for Wayward Children under the right conditions; slipping through the shadows under a bed or at the back of a wardrobe, tumbling down rabbit holes and into old wells, and emerging somewhere ... else. But magical lands have little need for used-up miracle children. Nancy tumbled once, but now she's back. The things she's experienced ... they change a person. The children under Miss West's care understand all too well. And each of them is seeking a way back to their own fantasy world. But Nancy's arrival marks a change at the Home. There's a darkness just around each corner, and when tragedy strikes, it's up to Nancy and her new-found schoolmates to get to the heart of the matter. No matter the cost." (Provided by publisher.)
How we fight for our lives : a memoir by Saeed Jones
"Haunted and haunting, Jones's memoir tells the story of a young, black, gay man from the South as he fights to carve out a place for himself, within his family, within his country, within his own hopes, desires, and fears. Through a series of vignettes that chart a course across the American landscape, Jones draws readers into his boyhood and adolescence—into tumultuous relationships with his mother and grandmother, into passing flings with lovers, friends and strangers. Each piece builds into a larger examination of race and queerness, power and vulnerability, love and grief: a portrait of what we all do for one another—and to one another—as we fight to become ourselves." (Provided by publisher.)
Kirkus Prize for Nonfiction, 2019.
Black on both sides : a racial history of trans identity by C. Riley Snorton
"The story of Christine Jorgensen, America's first prominent transsexual, famously narrated trans embodiment in the postwar era. Her celebrity, however, has obscured other mid-century trans narratives—ones lived by African Americans such as Lucy Hicks Anderson and James McHarris. Their erasure from trans history masks the profound ways race has figured prominently in the construction and representation of transgender subjects. In Black on Both Sides, C. Riley Snorton identifies multiple intersections between blackness and transness from the mid-nineteenth century to present-day anti-black and anti-trans legislation and violence. Drawing on a deep and varied archive of materials—early sexological texts, fugitive slave narratives, Afro-modernist literature, sensationalist journalism, Hollywood films—Snorton attends to how slavery and the production of racialized gender provided the foundations for an understanding of gender as mutable. In tracing the twinned genealogies of blackness and transness, Snorton follows multiple trajectories, from the medical experiments conducted on enslaved black women by J. Marion Sims, the 'father of American gynecology, ' to the negation of blackness that makes transnormativity possible. Revealing instances of personal sovereignty among blacks living in the antebellum North that were mapped in terms of 'cross dressing' and canonical black literary works that express black men's access to the "female within," Black on Both Sides concludes with a reading of the fate of Phillip DeVine, who was murdered alongside Brandon Teena in 1993, a fact omitted from the film Boys Don't Cry out of narrative convenience. Reconstructing these theoretical and historical trajectories furthers our imaginative capacities to conceive more livable black and trans worlds." (Provided by publisher.)
Detransition, baby : a novel by Torrey Peters
Reese had what previous generations of trans women could only dream of; the only thing missing was a child. Then her girlfriend, Amy, detransitioned and became Ames, and everything fell apart. Ames thought detransitioning to live as a man would make life easier, but that decision cost him his relationship with Reese, and losing her meant losing his only family. Then Ames's boss and lover, Katrina, reveals that she is pregnant with his baby—and is not sure whether she wants to keep it. Ames wonders: Could the three of them form some kind of unconventional family, and raise the baby together?" (From jacket.)
I'm afraid of men by Vivek Shraya
"A powerful meditation on the damaging effects of masculinity from a trans girl--a writer with celebrated indie roots and a knack for dismantling assumptions and challenging the status quo. Toxic masculinity takes many insidious forms, from misogyny and sexual harassment to homophobia, transphobia, and bullying. Vivek Shraya has firsthand experience with nearly all of them. As a boy, Vivek exhibited "feminine" qualities. The men in her life immediately and violently disapproved. They taught her to fear the word girl by turning it into a weapon used to hurt her. They taught her to hate her femininity, to destroy the best parts of herself. In order to survive, Vivek had to learn to convincingly perform masculinity. As a girl, she's still afraid. Having spent years undoing the damage and salvaging her lost girlhood, she is haunted by the violence of men, seldom dressing the way she wants in public. As a result she is often still perceived as male, stirring feelings of guilt and self-doubt: Am I not feminine enough? Is this my fault for striving to be the perfect man and excelling at it? I'm Afraid of Men is a culmination of the years Vivek spent observing men and creating her own version of manhood. Through deeply personal reflection, she offers a rare and multifaceted perspective on gender and a hopeful reimagining of masculinity at a time when it's needed more than ever." (Provided by publisher.)
Stung with love : poems and fragments by Sappho ; translated with an introduction and notes by Aaron Poochigian ; and with a preface by Carol Ann Duffy
"More or less 150 years after Homer's Iliad, Sappho lived on the island of Lesbos, west off the coast of what is present Turkey. Little remains today of her writings, which are said to have filled nine papyrus rolls in the great library at Alexandria some 500 years after her death. The surviving texts consist of a lamentably small and fragmented body of lyric poetry—among them poems of invocation, desire, spite, celebration, resignation and remembrance—that nevertheless enables us to hear the living voice of the poet Plato called the tenth Muse. This is a new translation of her surviving poetry." (Provided by publisher.)
I Hope We Choose Love : A Trans Girl's Notes From the End of the World by Kai Cheng Thom
"What can we hope for at the end of the world? What can we trust in when community has broken our hearts? What would it mean to pursue justice without violence? How can we love in the absence of faith? In a heartbreaking yet hopeful collection of personal essays and prose poems, blending the confessional, political, and literary, Kai Cheng Thom dives deep into the questions that haunt social movements today. With the author's characteristic eloquence and honesty, I Hope We Choose Love proposes heartfelt solutions on the topics of violence, complicity, family, vengeance, and forgiveness. Taking its cues from contemporary thought leaders in the transformative justice movement such as adrienne maree brown and Leah Lakshmi Piepzna-Samarasinha, this provocative book is a call for nuance in a time of political polarization, for healing in a time of justice, and for love in an apocalypse.." (Provided by publisher.)